[:fr]
Discover our journey on this video : https://www.youtube.com/watch?v=S2TfjSQJb40
Note: This itinerary will not be for sale due to the level of risk, but it is the kind of expedition that we like at Terre Cambodge! 🙂 Here is our story!
 Day 1 – May 15th, 2015 – Leaving For Phnom Kulen, North-West. 11KM
We met at 4:30 am to put all the material in the van. Hammocks with mosquito net, tarps, ropes, GPS, camping stove, First aid kit, food and water. Once we were all packed up, we headed to Koh Chann, a local restaurant, to have some breakfast.
The rest of the team that will be part of the expedition met us at the café! We were 14 persons in total: The members of team Terre Cambodge (Laurent, Estelle, Phoun, Cheleay, Thomas), 4 rangers, 4 police officers, and 2 members of ADF Kulen NGO (JB and Erika – www.adfkulen.org).
We drove for 1:30 hours North-West of Kbal Spean. The driver dropped us off 13 km up the road after a bumpy ride on a path marked by post with "Mined area" signs.
We stopped and split the material among the expedition members back packs. Back pack adjusted, 3 liters of drinking water each, 1 kalachnikov in case of trouble (the area is known for wood cuts and trafficking) and we are ready to go. We walked for 2 hours across the last villages of the Kulen area through fields and forest in the heat (38°C or 100°F). We finally started to climb and we were getting deeper and deeper in the tropical jungle.
We stopped on a small path in the forest to grab a bite, near an almost dried out river. On the menu: rice, noodles and cans… all well put together by a team of rangers with secrets culinary talents (the simple art of mixing everything together!).
The setting is nice, little rapids, birds signing, cracking fire. We cleared the area to leave no trace of our presence, put our back packs on and hit the road again.
We walked for 4 hours through the jungle while using the GPS to track water sources, essential to replenish water and set up camp.
Toward the end of the afternoon, we found the perfect set up for our overnight camp. We installed the hammocks with mosquito nets and a tarp to protect our camp from the rain, arrange our kitchen area to prepare dinner, which we will have by a fire, in the heart of the jungle.
We used the water source to shower briefly, cook and fill up our cantinas (the water is boiled on the fire). A snake and a scorpion even visited us! We finished the daily debriefing sharing a well-deserved cinnamon rum. It was time to get in our hammocks and spend our first night in this remote area, a night that was marked by Gibbon's screams and nocturnal animal steps.
Day 2 – May 16th, 2015 – Crossing Kbal Spean, direction NO-SE. 11.5KM
At 5 am sharp, gibbons' screams woke us up. Time for a quick shower in the creek right down the camp. We then had a quick breakfast before packing up and heading South-East of the mountains.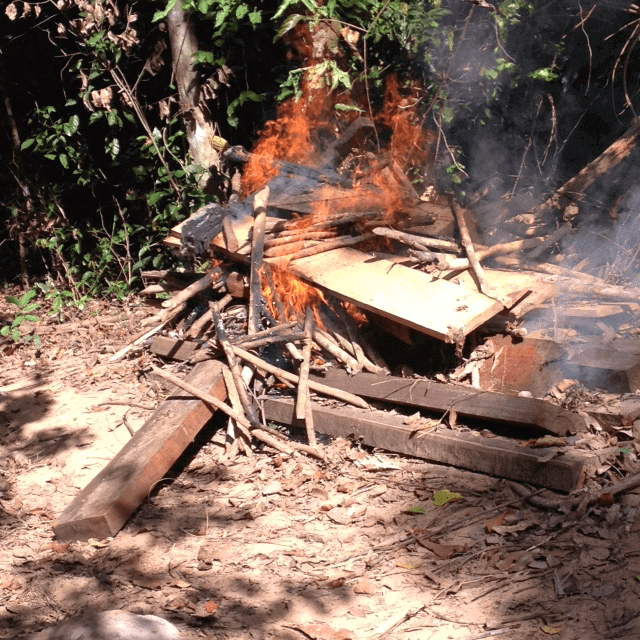 We walked for 4 hours in the morning while climbing through the tropical jungle. On the road, we came across a bush camp set up by the illegal wood cutters, and we even heard the chainsaws far away. The rangers and police officers decided to burn down the camp and take some of the goods like pots, pans and rice bags. We were then told to move quietly toward the area from where we heard chainsaws.
We got close, but they probably spotted us and ran away.
We resumed our trekking to reach a water creek surrounded by rock and lush vegetation. This is where we had lunch after boiling water (yummy and muddy) to cook the rice found earlier and filled up our cantinas, once again. For your information, at this point we drank about 4 liters of water per person, per day. No need to say that it is vital to find water sources in such a drought area.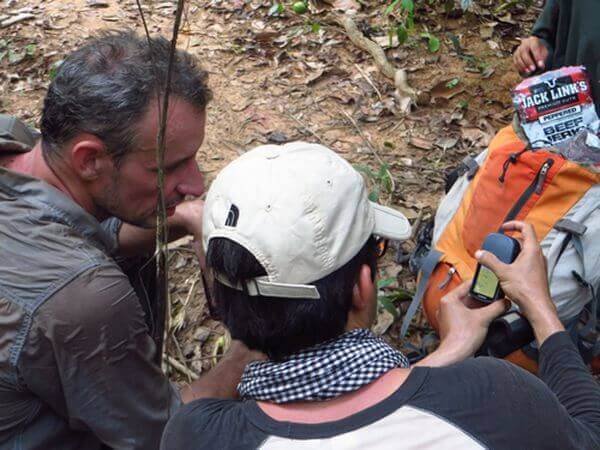 When it was time to get back on the road, Laurent realized that his iPhone was no longer in his pocket, after double checking, he admitted that he probably dropped it during the morning's adventure. Without hesitating, Chealy walked back the last 2 km and comes back to camp with the phone! A miracle, most likely! After the story that gave us a good laugh, we got moving again to find the next water source and set up camp for the night.
We walked for 2 hours before reaching a magnificent centennial tree, it seemed like the perfect place to stop. We saw a series of rock formation about 100 m away. Curious, we walked toward it and discovered a unique geological site. We decided to set up camp there.
At that point, we didn't always find water sources and we begin to worry as the GPS milestones didn't show water nearby. Clouds coming in are calling for some storms. Estelle decided to do a rain dance, hoping it would help us. And then, a miracle! A most appreciate rain started falling and stopped within a few minutes.
We threw our tarp and hammocks out to catch as much rain water as we can.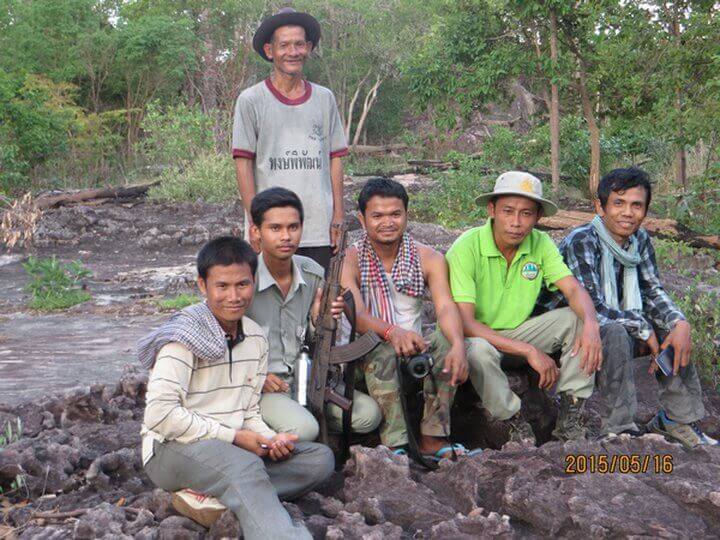 We also took advantage of the storm to shower, using our bio soap. It really rained generously and we got more than enough water to fill up our cantinas and water tanks. After that rainy episode, we set up our hammocks with mosquito nets, not without a little work. Thomas even came face to face again with a snake, right next to the trees holding his hammock.
At the same time, we put together the cooking area and we enjoy the last sun rays while enjoying a 5-star dinner, again cooked by our rangers. Tonight, on the menu: noodles and sardines or rice and bread with pâté. Again that evening, before climbing in our hammocks, we debriefed the forest adventures of the day, still amazed by the much needed storm that hit us.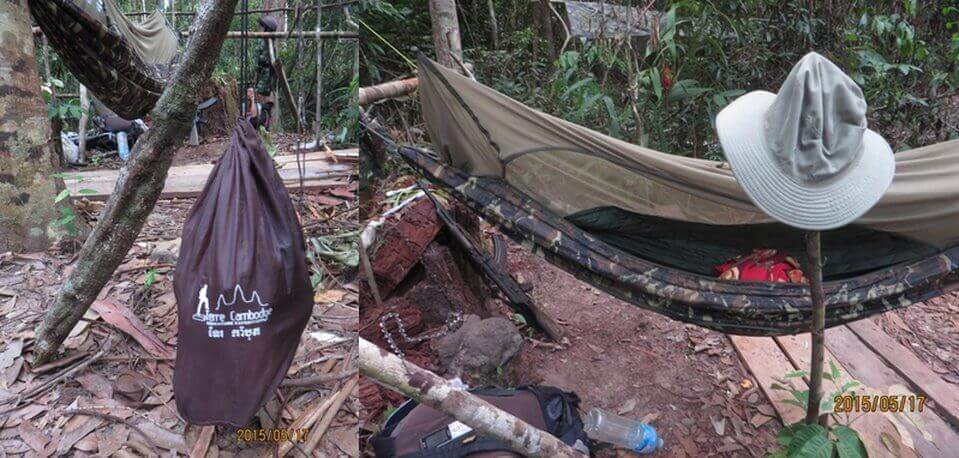 The Adventure continue soon in a next Episode !
[:]